Gold Bullion Trading via Gold Online System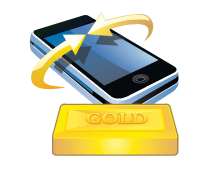 Gold Mobile
The online gold trading system has continuously undergone improvements in order to respond to the lifestyle of people in today's world. No matter where you are, trading can be completed via smart phones or tables. Our gold trading services support both iOS and Android systems and is highly modern, convenient, and ideal for investors who do not want to miss a single opportunity for trading Gold– more specifically, investors such as yourself.
Gold Mobile Benefit and Features

Clients can trade gold via any of their smart phones. With our web base technology, MTS Gold aim to provide the most real time update trading system for our clients.

Clients can place buy or sell orders themselves via an electronic system; Offering and purchase prices are in line with world market prices. Orders can be placed in real-time and at the preferred price, 24 hours a day.

Customers can implement the Strategy System according to their needs. The Place Order Strategy is a new system for placing orders that is modern, meets international standards, and can be used for risk prevention. Strategy Order can be place in THB term and also in USD spot term.

Our online trading system offer real time reporting solution for our clients to check their order. Whether it's real time order or strategy order. Our clients could check their order in real time with our online system.