Gold Bullion Trading via the Gold Phone System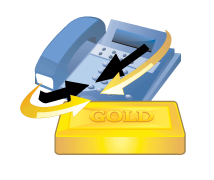 Gold Phone is a system which enables customers to trade via our Bullion Trading Advisor. Customers can fix their chosen price in advance and make payment for their purchases within the T + 2 period. Once a sales transaction is secured, customers can also fix the payment and then received the gold bullion with a schedule timeline. Customers can purchase via phone from physical gold 99.99% LBMA to 96.5% Gold for Local Thai bullion. With the benefit of Thai Tax law, purchasing bullion gold does not have any VAT for personal purchase
Gold Phones Benefit and Features

You will receive professional advice from your assigned Bullion Trading Advisor and will be able to request for information on trends and important news. Our professional BTA (Bullion Trading Advisor) team will help watch the market for you and inform when there are important information.
With high standard platform, the price we quote will be real time spot price. Market is quote in spot and will be convert with our real time system to price our clients 24 hours a day.

Trading prices shown are in real-time – customers can place orders at the fixed price by notifying the staff via their phone ordering system and make payments at a later date within T+2 timeframe.

Customers can place orders and wait to be notified about the price using the Strategy System and with the help of our marketing staff. Our staff could take many complete order such as Limit order, Stop Order, OCO, and Algo Bracket order. This innovative order system are our latest MTS Gold innovation.